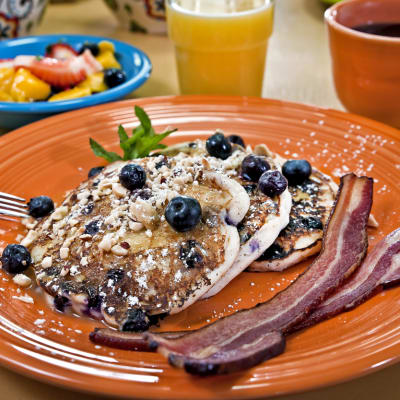 Breakfast
Freshly prepared homemade food using the best ingredients available are the hallmark of The McClaine House. This means cooking and baking with locally grown/raised foods whenever possible. Check out some of our amazing breakfasts!
Fresh Produce
Enjoy the weekly farmer's market just steps away from the Inn on Saturdays, between May and October, and a bit further, but still walkable to an indoor facility during the slower season. Our own garden provides fresh herbs and vegetables that make their way into your savory breakfast foods. We use local fresh, high quality produce and eggs, when in season and available.
Enjoy our homemade yogurt and granola, with local hazelnuts and pumpkin seeds that adds a wonderful sweet nuttiness to our granola.

The Inn offers Caravan Coffee and teas available in the dining room, or brew your own with the coffee maker located in your room. Breakfast is served at 9:00 a.m. beginning with a beautifully presented plate of fresh fruit or compote, accompanied by homemade yogurt and granola, and is followed by your main course.
Hot From the Oven
Depending on the entrée, home-made baked goods which may consist of blueberry scones with lemon zest or streusel topped apple muffins may accompany the first course. Served next is a hot entrée, possibly a frittata with tomato and basil, a creamy polenta with sautéed veggies, garnished with ham, a breakfast risotto, or a creamy smoked salmon scramble.
Special Requests or Dietary Restrictions
Should you have any special dietary needs or restrictions, just let us know in advance, and we will be happy to accommodate. We can also pack "muffin/fruit to go" for those with early morning departures.

Come enjoy one of Silverton's oldest historic properties that is The McClaine House!
Other Refreshments
Afternoons will find fresh baked, homemade cookies or other sweet treat in the dining room. For those that wish to enjoy an adult beverage, there is a selection of local wines for purchase by the bottle.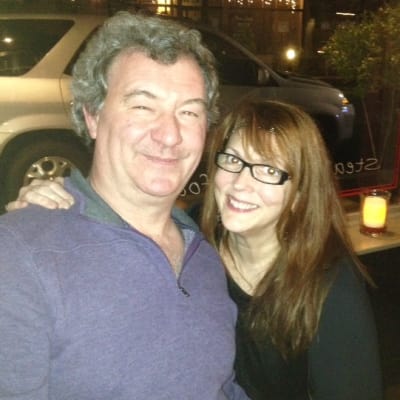 Meet Your Innkeepers
Karen, a previous innkeeper to Carlton, Oregon visitors, and now The McClaine House here in Silverton, a two guest suite bed & breakfast located in the beautiful Eastern Willamette Valley. I visited Oregon in the Spring of 2012, and fell in love. So fresh, lush and green. The flowers, veggies, and berries I have always dreamed of growing, grow here with such ease, I was in my own special heaven, and felt immediately like I'd found home. Andrew and I explored a bit more, and found a thriving Silverton, surrounded by fields growing all sorts of wonderful flowers, crops, hops, and vines. We feel very fortunate to have found the perfect home for our new Bed & Breakfast. With lots of scrubbing, swabbing, and peeling of old wallpaper, plastering holes that were uncovered, painting new life into The McClaine House, we are thrilled to be able to welcome our guests into what is now a beautiful, welcoming Boutique Bed & Breakfast.
Andrew is new to innkeeping, and frankly he just loves to lend a helping hand. He is also a busy entrepreneur with a wonderful candy factory and store in Aurora called the Pacific Hazelnut Candy Factory. So we hope that you enjoy chocolates and hazelnuts, because they are plentiful here at the Inn. Andrew was born in the East End of London, England, and moved to Spain for a short time when he was 11, then back to Birmingham, England where he finished his education at the University of NE London, and his apprenticeship with Ford Motor Company, and eventually became a production engineer. He immigrated to Canada when he was 22, and continued his career with automotive suppliers as a Vice President of Manufacturing for North America. So yes, quite a switch from Engineering to a candy factory, to part-time innkeeper.
So innkeeping is definitely my dream, happily realized. My past business and marketing experience has prepared me for owning and operating a couple of different businesses. I have enjoyed owning two different day spas, which has given me lots of cleaning and laundry experience, among other things. I was a licensed massage therapist and esthetician for over 12 years, and customer service has always been a high priority for me. Along the way, I have also found a love for preparing delicious breakfasts and treats. I look forward to sharing all this with our guests who also enjoy and appreciate the character and charm of past eras, with plenty of modern conveniences. Of course, those that just want to experience the location...just steps away from historic downtown Silverton, are also welcome to stay, sip, and stroll.