February 13, 2018
Lemon Ricotta Pancakes with Blueberry Sauce
By: Karen Choules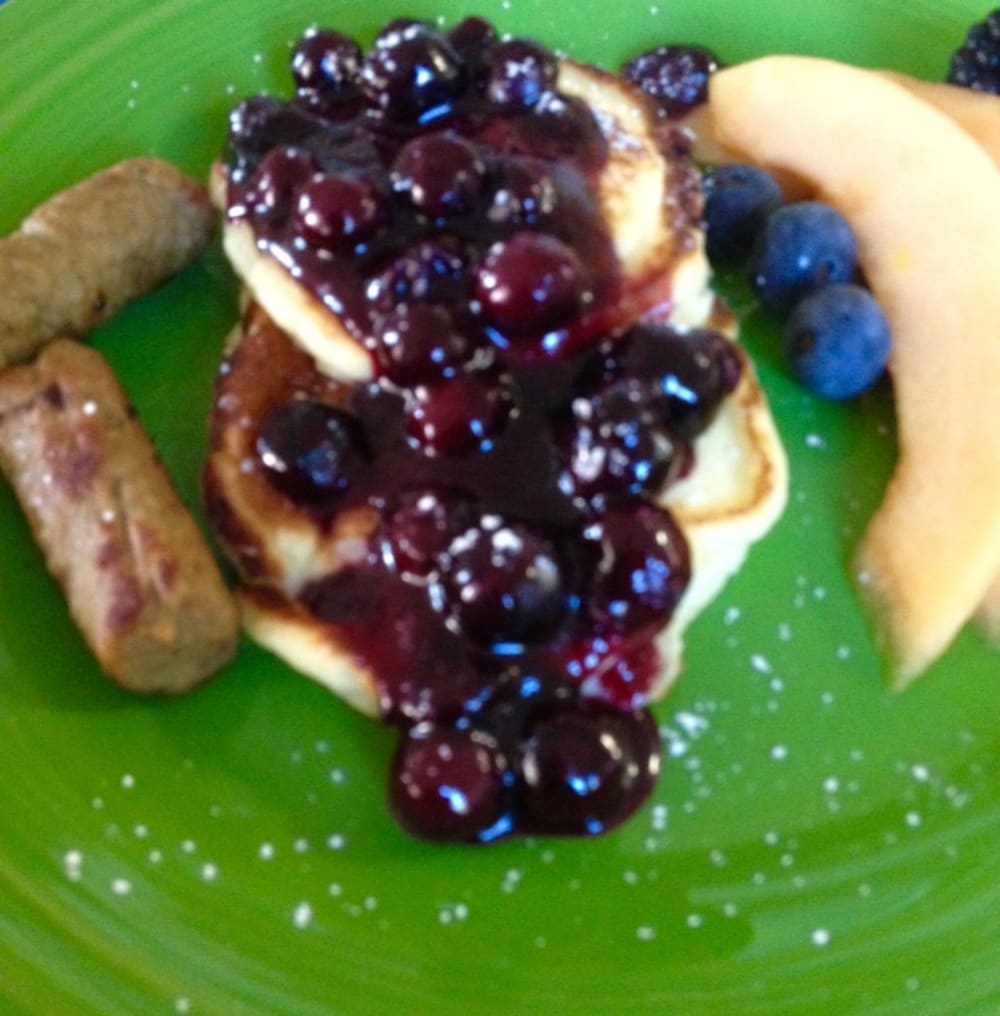 Drum Roll Please! My all time favorite Lemon Ricotta Pancake recipe! Light, fluffy, and delicious lemony goodness topped with a scrumptious blueberry sauce sure to impress the most finacky eater. Lets get started...
Ingredients:
1 1/4 cups all-purpose flour
3 Tbsp granulated sugar
2 teas baking powder
1/s teas baking soda
1/4 teas salt
1 cup part-skim ricotta cheese (do not substitute with fat-free)
1 large egg
2 large egg whites, beaten to stiff peaks
1/2 cup fresh squeezed lemon juice
2 teas grated lemon zest
1 Tbsp canola oil, more for brushing on the griddle/skillet
Directions:
Pre-heat oven to 200 degrees
In a large bowl, whisk together flour, sugar, baking powder, baking soda and salt.
In a medium bowl, whisk together ricotta, egg, egg whites, lemon juice, lemon zest, and canola oil. Fold this mixture into the dry ingredients to make a thick batter.
Brush a non-stick skillet with canola oil, and heat over medium-low heat. With 1/4 cup measure, drop the batter onto the skillet, spreading it slightly.
Cook the pancakes until browned on the underside and beginning to set, about 2 minutes. Flip and cook until browned on the second side, and cooked at the center, about 2 minutes longer.
Transfer the cooked pancakes to a baking sheet, and place in the oven to keep warm. Brush the skillet with the remaining oil, and repeat with remaining batter.
Top with blueberry sauce, and sprinkle powered sugar on top.
Can also top with lemon curd and fresh raspberries instead of blueberry sauce.
Blueberry Sauce
1 1/2 Tbsp fresh squeezed lemon juice
2 teas cornstarch
2 1/4 cups fresh or frozen blueberries
1/3 cup sugar
2 Tbsp water
1/4 teas salt
Directions:
In a small bowl, combine the lemon juice and cornstarch, then set aside.
In a medium saucepan, combine the blueberries, sugar, water, and salt.
Bring mixture to a boil over high heat.
Reduce to a simmer, and stir in lemon juice/cornstarch mixture.
Simmer, stirring until the sauce thickens slightly, about 2 minutes more.
Cover and set aside.
This sauce is the bomb...is also delicious on vanilla ice cream.