October 3, 2017
"Jake" McClaine, A True Pioneer
By: Karen Choules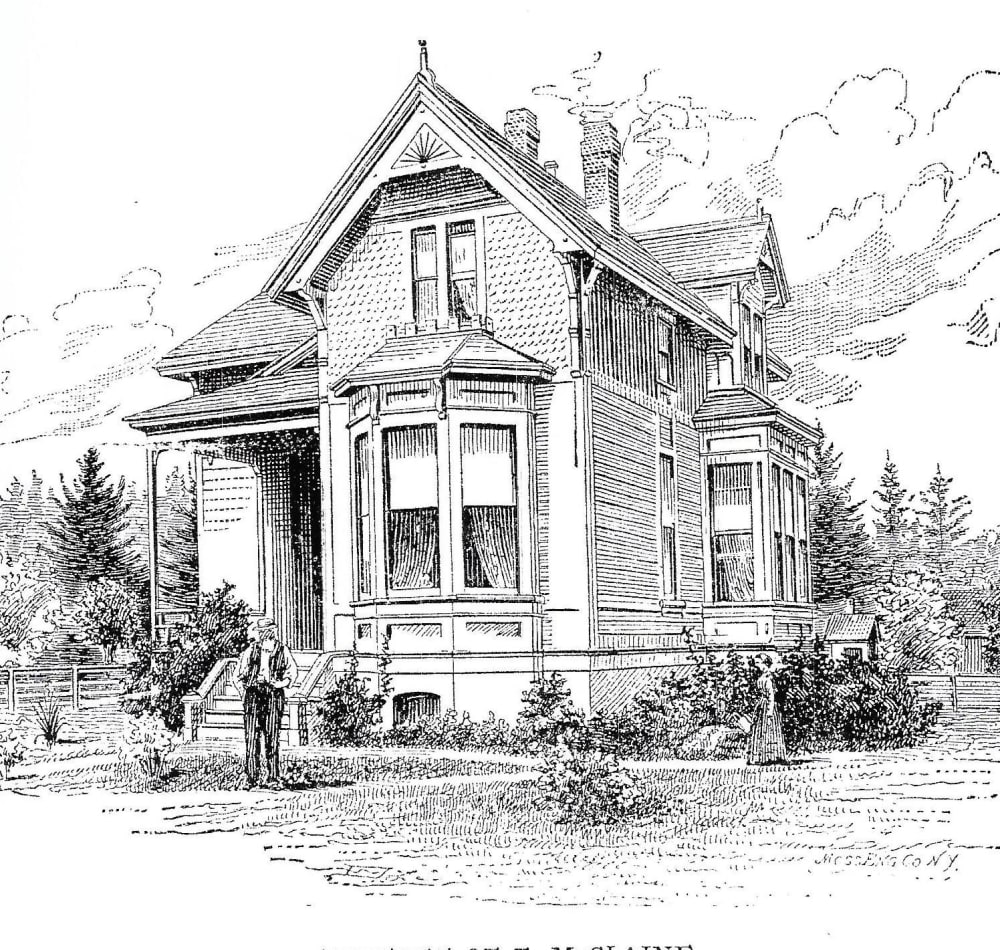 The McClaine House built in 1878, was named for its originator, Adolpholus Fielding McClaine who was fondly known as "Uncle Jake" passed away in 1899. For those that like history, I would like to share the obvious love and respect his community had for him through the simplicity of his obituary. This sketch of the house includes Jake, and his wife Sophronia at the front and side of the house.
"In the death of Fielding McClaine, Silverton loses one of her honored and highly respected citizens.
Uncle Jake was a man of noble impulses and his grand traits of character are left deeply imprinted as a lasting monument to his memory.
For forty years, Uncle Jake has been a resident of Silverton. During this time, whenever it was known that when anyone was sick or in distress, he was always about the first one there. Long and tedious trips, storms or darkness were no barriers to him and his noble heart when some unfortunate one needed assistance.
The following telegram was sent from Homer C. Davenport and was read at the grave."
"Please read at his grave. Orange, N.J., April 9, 1899
A.F. McClaine Silverton, OR:
With the passing of Uncle Jake McClaine thus closes a life filled with gentleness, sacrifice, and sturdy love for all mankind.
Stand beside his grave where sleeps the man whose heart beat time to generosities.
With uncovered head lift to the eternal God a prayer for me that in the great unknown future Uncle Jake and I shall grasp hands in unity as of old.
The stride of destiny stretching across the plain of life has swept into oblivion and mystery a man whose heart throbbed in sympathy for those to whom fate had been unkind; whose open palm held in its wrinkles the history of the struggles of the pioneers who gave to the west, as a legacy of love, a grand civilization made only because of the hardships to be endured.
All honor to the majesty of his name, the kindness of his nature and his unbroken creed of brotherly love.
Homer Davenport."
"Fielding McClaine was born in Sangamore County, Illinois, January 11, 1832, and was at the time of his death a little more than 67 years old.
His father died when he was quite young and he went to live with Abner Allen with whom he crossed the plains in 1852 arriving in Salem in the fall of that year.
He was married twice - his first wife was Sarah Porter Coolidge who died in 1872, and his second wife Sophronia E. Cavanagh who died in 1892.
With the exception of two years, he has lived constantly in Silver since 1859, a period of 40 years.
He leaves four children: Doph, Minnie, Fielda, and Elanor.
The funeral was held at the Silverton cemetery Sunday, where an immense throng of people assembled to witness the last sad rites."