February 6, 2018
Hazelnut Crusted French Toast Fresh Raspberry Coulis
By: Karen Choules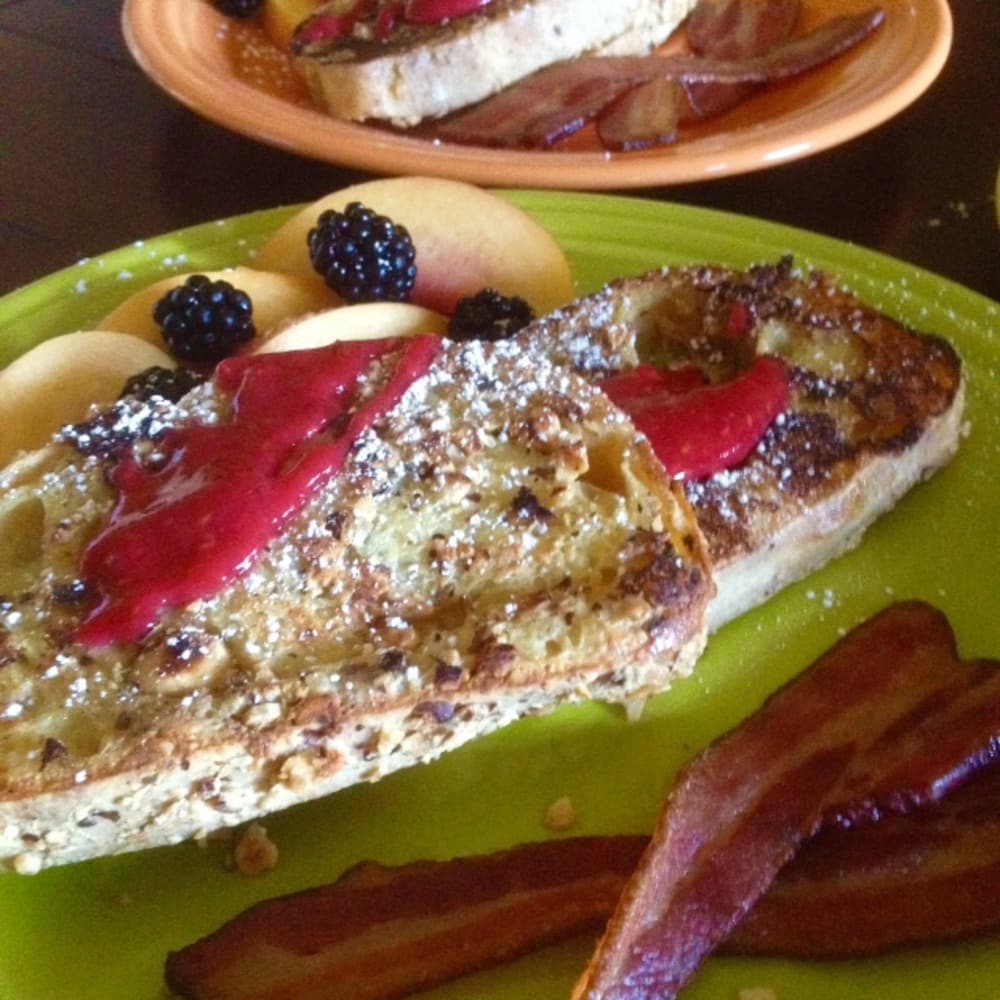 I have paired my love of French Toast with our locally grown Oregon Hazelnuts and Raspberries...all I can say is WOW! I think you'll agree, a great pairing. Here is the recipe I used to make some of our Oregon produce shine...but remember, you can substitute any favorite nut in this recipe...almonds, walnuts, macadamia nuts, or pistachios (yum).
Ingredients:
2 cups shelled, coarsely chopped hazelnuts (or other nut)
4 large eggs, beaten
2 cups milk
1 Tbsp sugar
1 tsp vanilla extract
1/8 tsp freshly ground nutmeg
1/4 tsp salt
8 slices (cut 1 inch thick...can cut diagonally as well) fresh or day-old French bread, brioche or challah
3 Tbsp unsalted butter
French Toast Preparation:
Preheat oven to 350 degrees
In a large, wide bowl, whisk together all of the remaining French Toast ingredients except the bread and butter.
Melt butter in a large, heavy-bottomed skillet or griddle just until the butter foams. Working in batches, carefully dip the bread slices on both sides, first in the egg mixture, and then in the chopped nuts. Cook until brown, about 2 minutes on each side, then transfer to the baking dish. Add more butter to the skillet between batches as necessary.
Place the baking dish(es) in the oven and bake for 15 minutes
To serve, arrange on the plate, dust with powdered sugar, and serve with Fresh Raspberry Coulis (or maple syrup, or jam, or simply fresh berries.
Serves 4
A note: for a firmer French Toast, toast lightly before dipping in batter, and soak a bit longer in egg mixture.
Raspberry Coulis
Makes about 2 cups
one (24-ounce) bag frozen raspberries, thawed, draining most of the visible excess liquid
1/2 cup powdered sugar
1 Tbsp fresh lemon juice
Combine the raspberries, sugar, and lemon juice in a blender and puree for about 20 seconds. Push through a fine-mesh sieve or a strainer. Store in a plastic airtight container or squeeze bottle in the refrigerator for 4 days, or in the freezer for 4 weeks.
Let the crunch begin!