June 3, 2018
A Brief History of Silverton
By: Karen Choules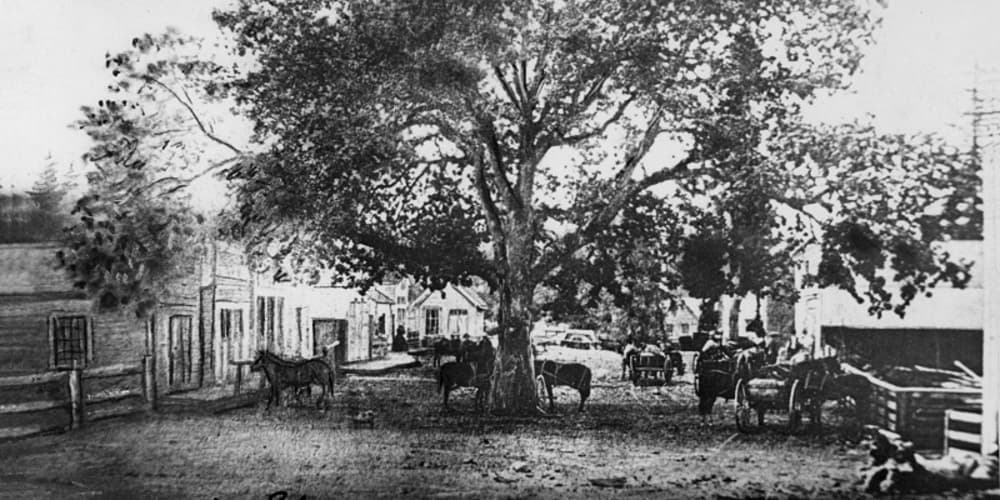 The first settlers arrived in the Silverton area in late 1843, with more arriving in 1845. Wheat was the first crop planted, and a staple for many years. The area was rich in natural resources, fish, migratory fowl, game, and wildlife. Once land was sufficiently cleared, large vegetable gardens were planted providing early settlers with plentiful food options.
The earliest industrial enterprise was a lumber mill that was built about 2 miles up Silver Creek in 1846, other businesses were soon added. When Silverton was established in 1854 (the name came about a year later), it wasn't long before these enterprises/buildings were moved to town. Early settlers, Jake McClaine and Al Coolidge became business partners in 1859, and combined their capital to buy land and stock. They also purchased a sawmill, and flour mill. In 1880, they opened the Coolidge & McClaine Bank on Main Street. In 1882, they constructed a new bank building, and as the community continued to grow and prosper, they expanded and built another in 1890. In 1878, Jake built his family a Victorian style home on West Main Street (140 years ago), which is now The McClaine House Bed & Breakfast.
The first apple and pear orchards were planted in 1851. For many years, Silverton's main source of income was agriculturally focused. Then the railroads opened up the area for more opportunities and growth. Warehouses were built to accommodate the agricultural, and lumber inventories. The lumber companies were instrumental in growing Silverton from a small, sleepy town to a thriving city. In 1923, Silverton was the largest producing lumber city in the Willamette Valley.
In 1932, land around Silver Falls was purchased for the purpose of preserving and creating a State Park for all Oregonians to enjoy.
When the original Opera Theater burned down in 1935, the Palace Theater was built the following year, and still stands in downtown Silverton showing first run movies, and serving the best theater popcorn around.
Jake McClaine's daughter, Minnie and her husband Dr. Clarence Keene, an orthopedic doctor helped found the Silverton Hospital. Minnie served as President of the Coolidge & McClaine Bank for many years. The 1865 baby grand piano in The McClaine House living room is named for Minnie, who passed away in 1965.